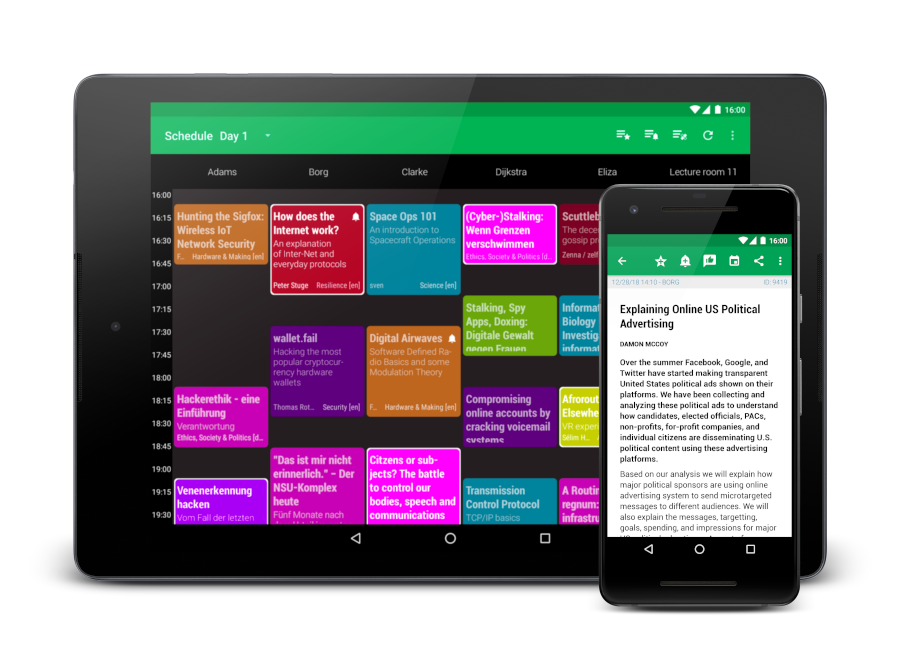 EventFahrplan
An Android app to enjoy event schedules powered by Frab, Pretalx or Wafer.
Unique layout
The grid layout allows to intuitively see which sessions take place in parallel or overlap.
Offline first
Your personal event schedule always works on your device, regardless of your connection status.
Open source
The source code of this project is available and will always be accessible for you in the future.
Feature highlights
As an end user of the app you have full functionality at your fingertips. Here is a brief overview of what you can expect. Read more on the features page.
View program by day and rooms (side by side)
Custom grid layout for smartphones (try landscape mode 🙃) and tablets
Read detailed descriptions of events (speaker names, start time, room name, links, ...)
Add events to favorites list
Manage your favorites
Setup alarms for individual events
Add events to your personal calendar
Share a website link to an event with others
Make use of automatic program updates (configurable in settings)
Keep track of program changes
Vote and leave comments on talks and workshops
Integrations
The app is designed to be extensible and integrate with other software systems. The following projects are already supported and can be enabled as needed.
Supported languages
The user interface of EventFahrplan can be translated into any language. Session descriptions have to be edited by the organizer. The following languages are currently available:
Danish
Dutch
English
Finnish
French
German
Italian
Japanese
Polish
Portuguese
Russian
Spanish
Swedish
Steady events & happy users
The EvenFahrplan app has proven since 2011 to be very useful at small and large events such as the Chaos Communication Congress with 17,000 visitors (figures from 2019). Here is a selection of events which used the EventFahrplan app.
Chaos Communication Congress 2019
Chaos Communication Camp 2023
FOSDEM
FOSSGIS conference
MRMCD 2023
FrOSCon 2023
Datenspuren 2023
taz lab
DiVOC
rC3
Droidcon Berlin
Privacy Week Wien
Cryptorave 2019
LSWT 2018
KotlinConf 2023
Bits & Bäume
FIfFKon
Hackover 2023
GPN 2023
PGCon 2018
FOSS4G 2023
DebConf 2021
LibreOffice 2021
PyConZA 2021
rC3 2021
Chemnitzer Linux-Tage 2023
Grazer Linuxtage 2022
HOPE 2022
Acrolotl 2022
Auerworld 2022
Acronia 2022
JEV 2022
AndroidMakers 2023